Recipes
Here I've compiled some of my tried, tested and true healthy recipes that I'm sure you'll enjoy! I'll be adding more all the time so be sure to check back for new additions! Hope you enjoy!
Meals
Fixed Up Turkey Chili
Servings: 6
Prep Time: 10 minutes
Cook Time: 25 minutes

This turkey chili turned out super yummy and it's SO filling!
Ingredients
1 tsp olive oil
1 large onion, chopped
1 medium red bell pepper, chopped
1 medium yellow or orange pepper, chopped
1 lb. raw 93% lean ground turkey
1 can of chopped tomatoes
2 cans of kidney beans, drained, rinsed
1 tsp chili powder
1/2 tsp sea salt
crushed red peppers to taste
12 Italian parsley springs, chopped
Prep
Heat oil in large saucepan over medium high heat
Add onion and bell peppers; cook stirring frequently for 4-5 minutes, or until onion is soft.
Add turkey, cook 4-5 minutes or until turkey is browned.
Add tomatoes, beans, chili powder, salt and crushed red peppers; cook stirring frequently for 10 – 15 minutes.
Divide into 6 servings.
21 DAY FIX PORTIONS
1 Greens, 1 Yellow, 1 Red
Lemon Chicken Stir Fry
This was a very nice, light & refreshing meal that was also very satisfying! The kids enjoyed it as well!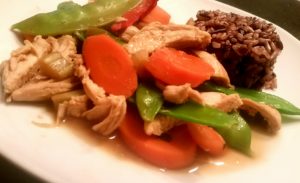 INGREDIENTS
1 lemon
1/2 cup reduced-sodium chicken broth
3 tablespoons reduced-sodium soy sauce
2 teaspoons or arrowroot or cornstarch
1 tablespoon canola oil
1 pound boneless, skinless chicken breasts, trimmed and cut into 1-inch pieces
1/2 cup of celery & peppers chopped
1 cup diagonally sliced carrots, (1/4 inch thick)
2 cups snow peas, (6 ounces), stems and strings removed
1 tablespoon chopped garlic
DIRECTIONS
Grate 1 teaspoon lemon zest and set aside.
Juice the lemon and whisk 3 tablespoons of the juice with broth, soy sauce and cornstarch in a small bowl.
Heat oil in a large skillet over medium-high heat.
Add chicken and cook, stirring occasionally, until just cooked through, 4 to 5 minutes.
Transfer to a plate with tongs.
Add peppers, celery and carrots to the pan and cook until the carrots are just tender, about 5 minutes.
Add snow peas, garlic and the reserved lemon zest.
Cook, stirring, until fragrant, 30 seconds.
Whisk the broth mixture and add to the pan; cook, stirring, until thickened, 2 to 3 minutes.
Add the chicken and any accumulated juices; cook, stirring, until heated through, 1 to 2 minutes.
Chicken Stir Fry
I was SO happy about this chicken stir fry! Not only is it basically one of the only stir fry's I've made successfully AND it was delicious! But also it was a modification of a recipe that finally turned out for me too! Winning! Haha. Recipe was derived from this Beef and Broccoli recipe. It looked so delicious but I had no beef, so swapped for chicken, then realized I had very little broccoli as well, and thus – this was born! Haha Hope you enjoy it!
Makes 3 servings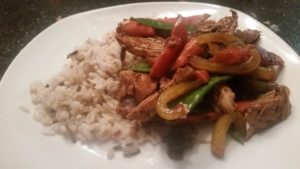 INGREDIENTS
1/4 cup reduced-sodium soy sauce
6 Tbsp. water, divided use
2 Tbsp. arrowroot powder, divided use
1 Tbsp. raw honey
3 medium boneless, skinless chicken breasts
1 tsp. coconut oil
3 cups veggies – carrots, peppers, broccoli & snow peas
2 medium bell peppers, cut into 1-inch cubes
2 cloves garlic, chopped
1 thin slice fresh ginger, peeled, finely chopped
3/4 cup of brown rice or whole grain rice
PREGERATION
Cut chicken breasts into small strips
Combine soy sauce, 4 Tbsp. water, 1 Tbsp. arrowroot, and honey in a small bowl; mix well. Set aside.
Combine remaining 1 Tbsp. cornstarch and 2 Tbsp. water in a large bowl; mix well. Add chicken. Toss gently to coat.
Heat oil in large skillet over medium-high heat.
Add chicken; cook, stirring frequently, for 2 minutes, or until cooked through and no longer pink. Remove from skillet, keep warm.
Meanwhile, start cooking your rice as directed.
Add your veggies, garlic, and ginger to skillet; cook, stirring frequently, for 3 to 5 minutes.
Add soy sauce mixture to skillet; cook, stirring constantly, over medium-high heat for 30 seconds, or until thickened.
Return chicken to skillet; cook, for 1 to 2 minutes, or until well mixed and heated through.
Serve over rice.
Each serving portions would equal the following for 21 day fix followers.
1.5 yellow
1 red
1 green
1 tsp
Pita Pizza
One of (our whole family's!!) favorite go-to meals is a pita pizza!!!
So simple, delicious and satisfying!!
My boys love to help make their own too!
Grab a whole wheat pita and top with your faves! Bake for just long enough to melt the cheese and get a crisp! 10 minutes is usually plenty!
For mine I used salsa for the base, then added spinach, left over taco seasoned lean ground beef, a bit of smoked ham, mixed peppers and a sprinkle of cheese!
Light, crunchy, DELICIOUS, and a great way to curb your pizza cravings!
Teriyaki Stir Fry

Servings: 2
Ingredients
2 skinless boneless chicken breasts
1 cup of brown rice, prepared
2 cups of stir fry veggies of choice
1 tbsp brown sugar
1/3 cup water
1/3 cup low sodium soya sauce or Braggs liquid aminos
1/2 tsp ginger
1/2 tsp garlic
1 tsp coconut oil
Directions
Preheat oven to 350° C
Meanwhile in a bowl mix together a tsp of arrowroot powder & a tbsp of water.
In a medium saucepan combine 1/3 cup water and 1/3 cup low sodium soya sauce or Braggs liquid aminos with ginger, garlic and brown sugar. Bring to a boil then reduce heat to low and simmer for one minute.
Remove from heat and pour half over the chicken and bake for about 30 minutes or until fully cooked.
Meanwhile, cook rice as directed on box to make 1 cup cooked.Stir fry veggies of choice in 1 tsp coconut oil for about 3-5 minutes. I used rainbow peppers, 1 carrot & 1 small head of broccoli.
Add in remaining sauce, cooked rice & chicken, sliced. Cook for about 2 more minutes to combine.
Thai Peanut Stir Fry
My yummy meals for the week! Thai peanut stir fry!  This turned out really yummy, will definitely be making it again!
.
INGREDIENTS
• 4 skinless boneless chicken breasts
• 1 large head of broccoli
• About 5 stalks of celery
• About 1 cup of sugar snap peas
• 1/4 low sodium soy sauce or liquid aminos
• 4 tbsp natural peanut butter
• 2 tbsp white vinegar
• 1/4 cup water
• 1 tsp cayenne powder
• 1 tsp ginger
• 2 cloves of garlic
• 1 tsp onion powder (or just use onions of preference)
• 1 tsp extra virgin olive oil
.
DIRECTIONS
• Mix together your vinegar, peanut butter, soy sauce, cayenne powder & water until well blended, set aside.
• Cook chicken breasts with oil, garlic and onion (powder) until cooked through. Remove and allow to cool then slice.
• Meanwhile in the same pan, add in your veggies & sauce, cook until tender crisp, about 3-5 minutes on medium high heat.
• Add sliced chicken back in and stir to incorporate, cook for another 2 minutes and serve.
Stuffed Peppers
Servings: 4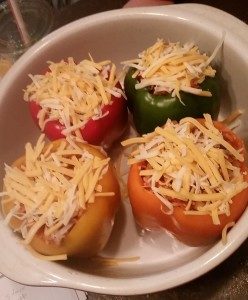 Cook Time: 20-25 minutes
Total Time: 30-35 minutes
This was my first time ever making stuffed peppers. I have always seen them and thought they'd be yummy. Well I was UBER impressed with them! They turned out amazing! So delicious and super filling! I'll certainly be making these again!
INGREDIENTS
4 bell peppers, colors of your choice.
1/2 lb 93% lean ground turkey
3/4 can of tomato sauce, no salt or sugar.
2 tbsp medium salsa
2 garlic cloves, chopped
1 cup of chopped onions
1 cup of cooked brown rice
1/3 cup of shredded cheese
1 tsp each of ground cumin, paprika, black pepper, garlic powder, onion powder, Italian seasoning
DIRECTIONS
Cook rice accordingly
In skillet saute onion and garlic until tender. Remove and set aside.
In same skillet brown turkey
Meanwhile, chop the tops off bell peppers. Heat in a large pot of boiling water.
Boil 3 minutes and remove. Drain on paper towels.
In a large mixing bowl combine ground turkey, sauteed onions/garlic, 1 blue container of cheese, 2 yellow containers of rice, tomato sauce, salsa, and seasoning. Mix well.
Fill each pepper with mixture. Top with remaining blue container of cheese and sprinkle paprika on top.
Bake at 325 for 20-25 minutes.
Fix portions per pepper – 2 green, 1 red, 1/2 yellow, 1/2 blue.
Taco Lettuce Wraps
Need to share this because OMG it was SO good! I may just eat them every day for the whole rest of this 21 days! Hahahah So simple, but so good.
WHAT YOU'LL NEED
1 lb extra lean ground beef or turkey, your choice.
low sodium taco seasoning, or make your own.
sweet peppers and/or tomatoes (topping preference)
shredded cheese
large leaf lettuce, like romaine.
Whip it All Up!
Then it's simple, cook your meat until browned.
Add your seasoning and a cup of water, bring to a boil.
reduce heat to low and simmer until most liquid is absorbed.
top lettuce leaves with meat, veggie toppings of choice and cheese!
To make this fit the 21 day fix/extreme meal plan, simply measure out your meat onto the leaves, 1/2 red on each to make two. Then top with 1 blue of cheese divided on each. So I had 2 for a meal making it 2 green, 1 red, & 1 blue! I doubled up my romaine leaves, helps fill the 2 green easier and probably helped strengthen my "wrap". SO yummy! Also, my 1lb meat made about 3 full 1 red servings. So I got 3 meals for the week from this. If you're a taco fan, you wont be disappointed with this one!
Cleaned Up Fried Rice
Servings: 5
Craving Chinese!? This turned out DELICIOUS! The boys enjoyed it as well, so it'll def be going on the menu!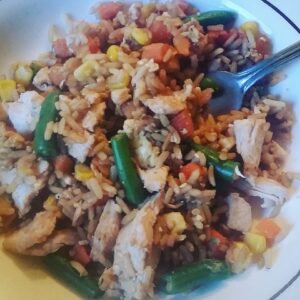 INGREDIENTS
1 lb of meat of choice, I used turkey breast, but you could also use chicken, lean ground beef,
turkey or chicken! Even shrimp, the choices are endless!
3 eggs
2.5 cups of cooked brown rice (or rice of choice)
2.5 cups of mixed frozen veggies
half an onion, diced
1.5 tbsp extra virgin olive oil
1/3 cup of Braggs liquid aminos (or low sodium soy sauce)
1 tsp garlic
1 tsp ginger
1/2 tsp of chill powder **optional if you like a bit of a kick!
DIRECTIONS
Cook rice according to package and set aside.
Cook meat of choice and set aside, of chicken or turkey breast, dice/shred.
Add oil to heated medium-large sized pan and sauté onions for a few minutes.
Add in frozen veggies and stir fry for about 3-5 minutes until cooked to about your desired consistency.
Push your veggies to the side of the pan and add your whisked eggs to the other side, cooking and scrambling.
When cooked, mix together with veggies.
Now add in your rice and protein of choice, seasonings and liquid aminos (or soy sauce)
Cook for just another moment or two while combining ingredients and flavors.
Remove from heat and serve!!!
Have as a meal or pair with some homemade egg rolls, maybe some sweet and sour meatballs, get creative!
Fix portions – 1 yellow, 1 red, .5 green, 1 tsp
Egg Roll in-a-Bowl
Servings – 5 about 1 cup each.
Apparently I was on a Chinese food kick! Either way, turned out way more delicious than the bad quality picture does justice! Haha
SUPER simple as well! And also kid approved!
INGREDIENTS
1 lb of ground protein of choice (I used extra lean ground turkey)
5 cups of coleslaw mixed veggies, packaged or homemade/cut.
1/4 cup of Braggs liquid aminos (or low sodium soy sauce)
1 tsp extra virgin olive oil
2 tsp sesame oil
1 tsp onion powder
1 tsp garlic
1 tsp ginger
1 tsp of crushed chili's to taste
green onions and sesame seeds to top
DIRECTIONS
Cook your ground protein using olive oil if needed.
Drain off any excess fat.
Add in your coleslaw mixed veggies, seasonings and liquid aminos or soy sauce.
Cook 2 minutes and then add sesame oil (watch and stir fry on low heat as sesame oil can burn easily)
Continue cooking until cabbage is tender crisp to your likings.
Top with green onion, sesame seeds and serve!
Serve with or on a bed or rice if you choose.
21 Day Fix portions – 1 red, 1 green, 1 tsp
Turkey Burgers
Made some turkey burgers today!
Ingredients/Directions:
2lbs of extra l

ean ground turkey

Mixed in about 1/2 cup egg whites

2 tbsp low calorie BBQ sauce

onion powder

pepper

Italian seasoning

garlic

some chopped up spinach.
Made 8 patties, so about 4oz each.
Cooked 6 and froze 2 for a quick meal another time!
---
Breakfast Ideas
Chocolate Peanut Butter Protein Pancake!
This morning I had a protein pancake! It was delicious! I've struggled with getting the right combination of ingredients to get a good turn out for these and I must say this one would be one of the best I've made!
Ingredients
1/4 cup of dry, wheat free oats

1/4 cup of egg whites (about 3 medium whites seperated)

1/2 a scoop of chocolate protein powder

1/2 tbsp natural peanut butter (I used Skippy natural with honey!)

1-2 tbsp of unsweetened vanilla almond milk
Mix ingredients, heat pan on a low-medium setting, grease with organic coconut oil, only as much as needed. Pour in batter and cook about 2 minutes per side.
Enjoy!
Macro breakdown: (without added toppings)
Calories – 227
Fat – 9.1 g
Carbs – 19.24 g
Fiber – 3.5 g
Protein – 22.12 g
---
Snacks
Oatmeal Clusters
These oatmeal clusters are easy and fast to make, and good for you! So you can feel less guilty indulging in a few. I really liked these and make them often, the kids and my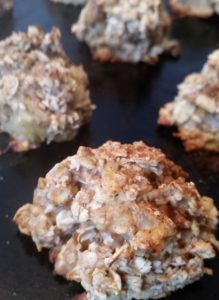 boyfriend liked them too! They're also super versatile, so once you have the base, you can add many different things to customize them and make them suit your likings!
Makes 8 servings of 2 cookies each
Fix portions – each serving is: 1/2 purple, 1/4 yellow, 1/2 blue
INGREDIENTS
1 cup of old fashioned rolled oats
2 ripe bananas
2 tsp ground cinnamon
1 tsp unsweetened cocoa powder
1/4 cup chopped raw walnuts
DIRECTIONS
Preheat oven to 350 degrees F
Lightly grease baking sheet or line with wax paper
Combine oats, cinnamon & walnuts n a bowl
Mash bananas and mix in with oats
Drop heaping tbsp of mix onto baking sheet to make 16 clusters
You can flatten them down with a fork for more of a cookie look and shape
Bake for 10-15 minutes
As you can see this is a simple recipe that you could flavor any way you prefer! Add some chocolate chips, raisins etc.
Sugar Free Haystack Cookies
Hey guys! I've been struggling with this damn sweet tooth lately so have been looking at some healthier alternatives to calm the cravings! This weekend I tested out these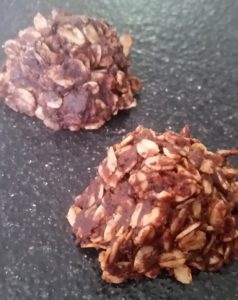 delicious sugar free versions of the commonly know "haystack" cookies and was SO impressed with how they turned out, I had to share! My kids loved them as well, they didn't last long! Haha. Hope you enjoy!
Makes 3 dozen small
INGREDIENTS
3 cups quick cooking oats
3/4 cup honey
2/3 cup natural peanut butter (optional)
1/2 cup coconut oil
1 1/2 teaspoon vanilla extract
1/4 tsp salt
DIRECTIONS
Line 2 baking sheets with parchment paper or aluminum foil
In a medium-large saucepan over medium-high heat, combine honey, peanut butter and coconut oil stirring consistently until everything blends together smoothly and is liquified.
Remove from heat and quickly stir in oats, cocoa powder, vanilla and salt and mix just until everything is fully incorporated.
Use a spoon to drop cookies down onto pans and place in freezer for at least 15 minutes to cool and set.
Put cookies in a container and either store in the fridge or freezer depending on your preference.
You can flatten them down with a fork for more of a cookie look and shape
Bake for 10-15 minutes
ENJOY!
Since this recipe is so basic you can spruce it up to add in other things you enjoy with little to no modifications!
ie – some type of nuts, raisins etc.
Let me know your modifications and add ins!
Apple Nacho's
SO delicious, simple AND cures that sweet tooth or late night cravings!
Simply slice an apple into thin pieces, lay out on plate so you can top evenly.
You can play with the toppings to suit your likings.
For mine, I topped with cinnamon, a sprinkle of chia seeds, some slivered almonds and melted peanut butter!
Great snack for the kids too!
Buffalo Chicken Dip
Alright, I'm SO pumped with how quick and easy and DELICIOUS this meal is! Admittedly this is for my lunch today and tomorrow but I did HAVE to try it out last night when I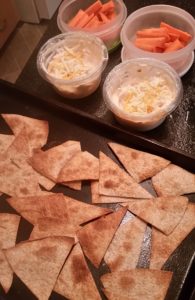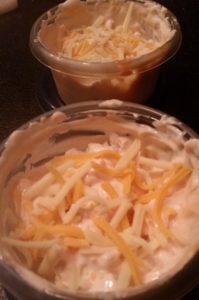 made it! SO good! You can either serve this cold, or bake it so it's hot and bubbly. I'm doing cold since it's for lunch at work. You can serve it at parties, get togethers, alongside some homemade chips, veggie sticks, crackers, the possibilities are endless!
This is so simple there really is no need for a full blown recipe for this buffalo chicken dip as everything is adjusted for how much you want to make and your taste preferences.
INGREDIENTS
Plain greek yogurt
shredded chicken
shredded cheese
franks red hot sauce to preference
Once again, you can eat it cold or mix some cheese into the dip and some on top then bake until heated through and hot and bubbly! You can even add some mix in's to this to make it more your taste, for example some chopped green onions etc!
Homemade Chips
Whole wheat tortilla's cut into triangles, sprinkled with some extra virgin olive oil & Himalayan salt.
I baked these on broil, watch steadily as it only takes a couple seconds for them to go from almost crisp to burnt! (Trust me, I learned the hard way! haha)
These too can be made how you like, you can use corn tortilla's or white if you prefer.
Get creative and let me know how you spruced yours up with or what you like to serve yours with!
Then dig in! Serve with whatever you want and have yourself a meal or just a snack! Enjoy!
Berries 'n' Cream
Delicious healthy and nutritious snack!!
I had some plain, no fat, lactose free greek yogurt (great source of protein!) Then I topped with a tsp of natural honey, a sprinkle of unsweetened shredded coconut, strawberries and granola!
Simple and delicious! Plus it's got all of your macro nutrients and enough calories to even sub as a meal! You've got your protein, carbs and fats!
Oatmeal Pumpkin Protein Muffins
These turned out really good!!! With fall in the air and Luke always complaining I don't bake for him enough (lol) I decided to whip us something on the healthier side! Came up with these altered from a recipe I found online.
?Ingredients
2 1/2 cups oats

2 scoops vanilla protein powder

2 tsp baking soda

4 tsp baking powder

1 tsp pumpkin pie spice

3 tsp cinnamon

2 eggs

1/2 cup unsweetened apple sauce (or 1 medium mashed banana)

1 3/4 cup pure pumpkin

1 cup plain 0% Greek yogurt

1/3 cup raw organic honey
Optional add ins:
Dates, raisins, dark chocolate chips, walnuts, pumpkin seeds etc. Get creative!
?Directions?
Pre-heat oven to 350
Grind oats in food processor or blender with grain blade for about 30 seconds.
Add in remaining ingredients & mix well.
Pour into greased muffin tins filling about 3/4 of the way. Bake for 18-20 minutes.
Remove from oven and allow to cool on wire rack.
ENJOY!
Makes about 20 muffins. I just made 12 and used the remainder in a loaf pan and made a small loaf from the rest!